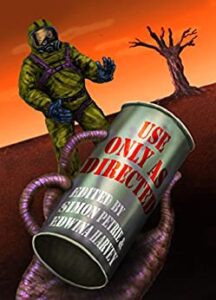 Use Only As Directed
A varied mix of 14 speculative fiction stories by some of the best Australian and New Zealand authors in the genre in settings that range from the back yard to the depths of space.
Edited by Simon Petrie and Edwina Harvey
Cover art by Lewis P. Morley
Authors: Stephen Dedman, Dirk Flinthart, Dave Freer, Michelle Goldsmith, Alex Isle, Lyn McConchie, Claire McKenna, Charlotte Nash, Ian Nichols, Leife Shallcross, Grant Stone, Douglas A Van Belle, Janeen Webb, M Darusha Wehm. 216 pages.
Paperback
$20.00. 350 grams.
Ebook $4.95
* For paperback copies to be sent to addresses outside Australia, please contact editor@peggybrightbooks.com with your address so we can calculate postage costs.