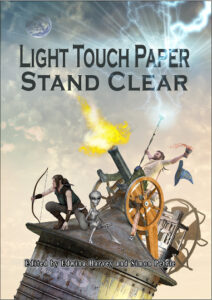 Light Touch Paper – Stand Clear
Matchless prose to fire your imagination! Offering 13 wonderous works of fiction from Joanne Anderton, Adam Browne, Sue Bursztynski, Brenda Cooper, Katherine Cummings, Thoraiya Dyer, Kathleen Jennings, Dave Luckett, Ian McHugh, Sean McMullen, Ripley Patton, Rob Porteous and Anna Tambour.
Reviews
"In all, Light Touch Paper Stand Clear definitely has a good strike rate of stories … This collection is a fine example of what a very loosely themed anthology can look like. Recommended."
— Tehani Wessely, ASIF website.
"A diverse collection with something for everyone means that it may not be seen as outstanding by any particular readership. My impression is that it holds its own … it is a collection you could revisit and find joy in, depending on changing mood or taste. There's not a piece that I think is padding in other words."
—Sean Wright, 'Sean the Bookonaut' website
"… this baker's dozen has got plenty of substance to its dough and the stories are all readily digestible."
—Rod MacDonald, 'SF Crowsnest' website
"An eclectic collection containing stories from a variety of Australian and international authors, Light Touch Paper, Stand Clear is an engaging body of work that contains a number of excellent stories, quite a few memorable ones, and should have something to suit almost anyone."
—Michelle Goldsmith, 'Vilutheril Reviews' website
"If anybody you know gets going about the dearth of quality Australian spec-fic being published at home, you needn't counter with words; just point them toward this smashing collection of shorts … Read this. That is all."
—Lachlan Huddy, 'Aurealis XPress' newsletter
Paperback
$15.95. 400 grams.
Ebook $4.95
For paperback copies to be sent to addresses outside Australia, please contact editor@peggybrightbooks.com with your address so we can calculate postage costs.