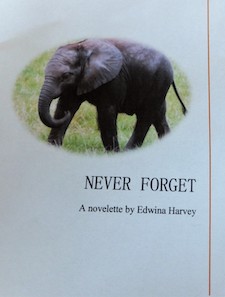 Does a genetically modified orphaned elephant calf hold the key to saving African elephants from extinction?
Never Forget is an 8,000 word novelette by Edwina Harvey that explores the themes of genetic manipulation and racial identity. Described by the author as "schmaltzy science-fiction", Never Forget is a prequel to the short story, When Whales Cry (published in Eclectic Collection of Stuff and Things, Peggy Bright Books, 2017).
The 35 page A5 booklet includes an elephant charm.
Reviews
Diana Roos, Facebook:
"…'Never Forget' is an engaging [novelette] written in the first person and is a prequel to another appealing story which I have also read called When Whales Cry. Without giving any spoilers, it tackles a sensitive subject in a very different approach that made me wish if only it were true. Who knows, besides being an entertaining read, maybe it will inspire someone to discover a solution [to ivory poaching]"
Chris Jones, Amazon.com.au:
"Like in the Whale's Tale, Edwina looks at our treatment of the biosphere and animals through the lens of speculative fiction. Although short, this story was quite enjoyable, and had interesting characters. It's worth the read."
Anna Kashina, Amazon.com:
"I am a fan of Edwina Harvey, and I wasn't disappointed with this story! It's an enjoyable read throughout, with the effortless writing that just grows on you from the very first page. Great characters, setting, and story line. The design is beautiful too, it definitely deserves a separate high mark. Overall, highly recommended."
Hazel-Anne Nair, Goodreads:
"This beautiful little story offers up a perfectly balanced account of a scientist's struggle to save African elephants from ivory poachers. Whilst doing so, it delivers a caveat as the need for conservation of these magnificent beasts is weighed against the concerns of local villagers whose farms are regularly destroyed by them. Foreign investment moguls as well as so-called "sport" hunters all cop a serve as Edwina Harvey offers up a very neat solution to the problem. There's tension and just the right amount of science as the scientist races to have his work validated, with a very adorable elephant thrown in. A very enjoyable tale!"
$6.95 including postage in Australia. 150 grams.
NEW! Never Forget Audiobook. Read by Marg Essex, produced by Ion Newcombe. Running time 57 minutes. Available as download from link. $5
On CD as an audio file (should play on most CD players) $6.95 including postage within Australia.
On CD as a MP3 file. $6.95 (including postage within Australia).