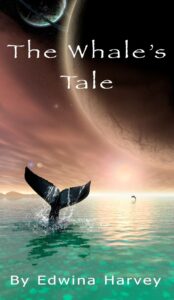 The Whale's Tale is an exciting young adult science fiction novel set in a future where the Whale Nation has brought space travel back from the brink of extinction. Humpback whales tour the galaxy in massive spaceships called "The Whaling Fleet" performing Whalesong to receptive audiences. After she's caught stealing a computer file, Japanese teenage girl, Uki, finds herself 'serving time', touring the galaxy with a humpback whale called Targe and his dolphin sidekick, Charlie. Uki doesn't like Targe, Targe doesn't like Uki, and Charlie thinks he's in for the worst tour of his life until they discover Uki has a special talent.
"Wow! What a whale of a tale!" – Sheila Tracy
Book review by June Young in New Zealand.
Review by Jonathan Dean.
Released November, 2009. ISBN: 9780980699807
| | |
| --- | --- |
| Paperback $19.95. 400 grams. | Ebook $2.95 |
Click here to read a free sample from The Whale's Tale.

For paperback copies to be sent to addresses outside Australia, please contact editor@peggybrightbooks.com with your address so we can calculate postage costs.